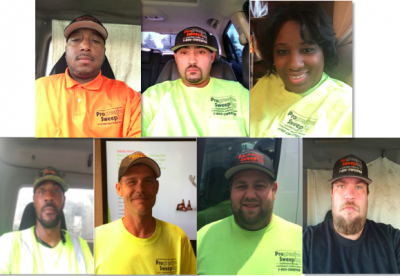 Progressive Sweeping Contractors, Inc., the premiere power sweeping business in Northwestern Ohio, Southern Michigan, and Eastern Indiana, is proud of their employees, Aaron Harris, Isaac Mohon, Dave Martinez, Lakisha Rogers, Marcus Scott, Nate Alluntt, and Steve Slater, for their recent distinction as Certified Sweeper Operators (CSO). To earn this designation, they passed all standards set by North American Power Sweeping Association (NAPSA) in its training modules, exam, and driving requirements.
NAPSA's Certified Sweeper Operator (CSO) training is extensive and details numerous skill sets including Sweeper Operation, Noise & Dust Issues, Lot Management, Dumping, and Ethics. To become a CSO, operators must complete the coursework in all NAPSA 18 modules, pass an oral exam, and complete 1,000 hours of accident and injury free sweeper operation. Being committed to completing the CSO training, exam, and driving requirements identifies operators in the sweeping industry as dedicated, knowledgeable, safe, and productive.
"The designation of CSO proves the sweeping industry is dedicated to the highest standards of performance and safety," states Mike Lucht, President of ProSweep. "Employing operators who have undergone the strict training to become CSO sets us apart as an industry leader. ProSweep is proud to be a member of NAPSA and is committed to employing operators who exceed our customer's expectations."
NAPSA has developed a formal certification to recognize power sweeping companies who operate above board in all ethical, legal, and professional guidelines in the power sweeping industry. NAPSA members are dedicated to integrity and competence while recognizing their responsibility to their customers, employees, and public. NAPSA is currently utilizing the CSO achievement in its efforts to develop a power sweeping certification with American National Standards Institute (ANSI).  
About North American Power Sweeping Association: The North American Power Sweeping Association (NAPSA) is a nonprofit association made up of 300+ contract sweepers, service providers and sweeping equipment dealers, manufacturers and suppliers. NAPSA is dedicated to providing beneficial support to the membership and enhancing services to the sweeping industry. The members of NAPSA are committed to promoting and educating the power sweeping community while enhancing the environment. Visit us online at: http://www.powersweeping.org